by Tara K. E. Brelinsky
I used to shake my head from side-to-side whenever I heard pleas for the adoration chapel at the close of Mass. Okay, well maybe my head-shaking wasn't literal (because that would have been rude while sitting in the first row), but internally I was rapid-fire listing the many reasons why I absolutely could not be expected to commit an hour of my week to the adoration chapel.
Sure, I sensed a twinge of guilt each time the chapel coordinator petitioned the congregation for more adorers, but that feeling was quickly suppressed by scanning the seven children who flanked me on both sides of the pew. I was a homeschooler, a mother with young children. It was a 30 minute drive (one way) to the chapel. I had a house to run, laundry piles to contend with, young minds to educate, extracurricular activities to juggle…
I didn't have spare time every week to devote an hour to adoration. We got our whole crew of children to Mass every Sunday and that was enough. Or so I thought.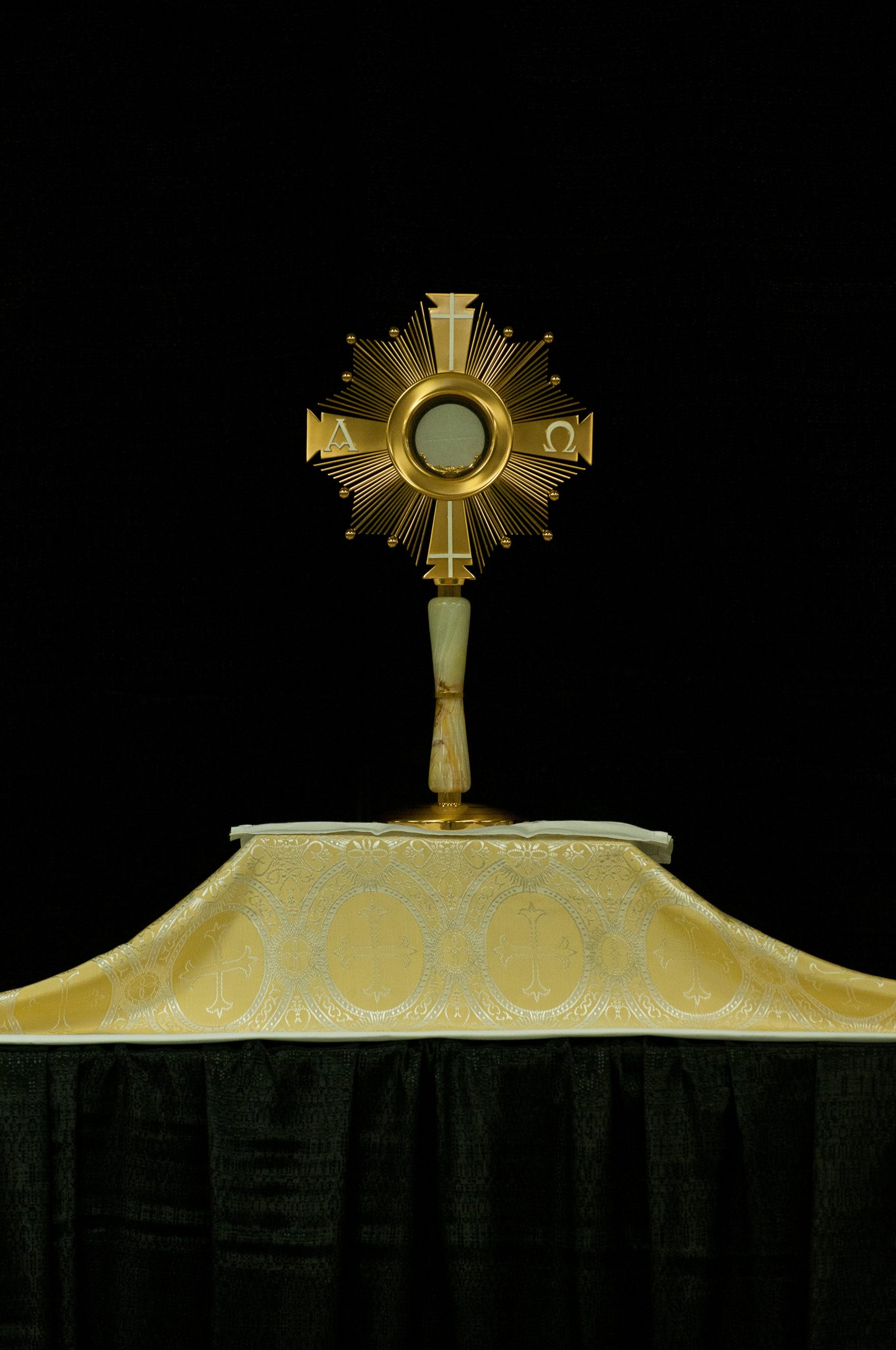 Adoring On My Terms
Admittedly, it was with that attitude that I began sporadically visiting Jesus in the adoration chapel. I was struggling through a particularly painful period in my life and I couldn't afford to pay a counselor to help me work through my anguish. My reasons for going to the chapel were purely selfish. I needed help, but I wanted it on my terms, on my time.
Then, something happened. Or perhaps I should say Someone spoke to my heart. During those unscheduled hours of silence before the Blessed Sacrament, I sensed a call to become a committed adorer. And not only me, but my whole family. I felt a pull to bring my children with me on a consistent basis.
But, But, But…
But, but, but… I had all of those valid excuses for not pinning myself down to another obligation. Thus, I decided to do what any sane person would do: I took the matter to someone who would back me up, someone who would agree that I couldn't possibly commit an hour of my week to adoring with all of my young children. I asked my husband.
However, the Holy Spirit was one step ahead of me. When I posed the question to my dear spouse, he betrayed my plans! He readily accepted Jesus's invitation and encouraged me to sign-up our whole family for a weekly hour in the chapel.
What could I do besides obey?
Changing My Why-Not's to Why's
That was seven years ago and boy, have things changed! Today when I hear our new chapel coordinator make her pleas for more adorers, my head shakes in a different direction. And more than that, my mind races in contemplation of the myriad reasons for why adoration is now a must in my family's life.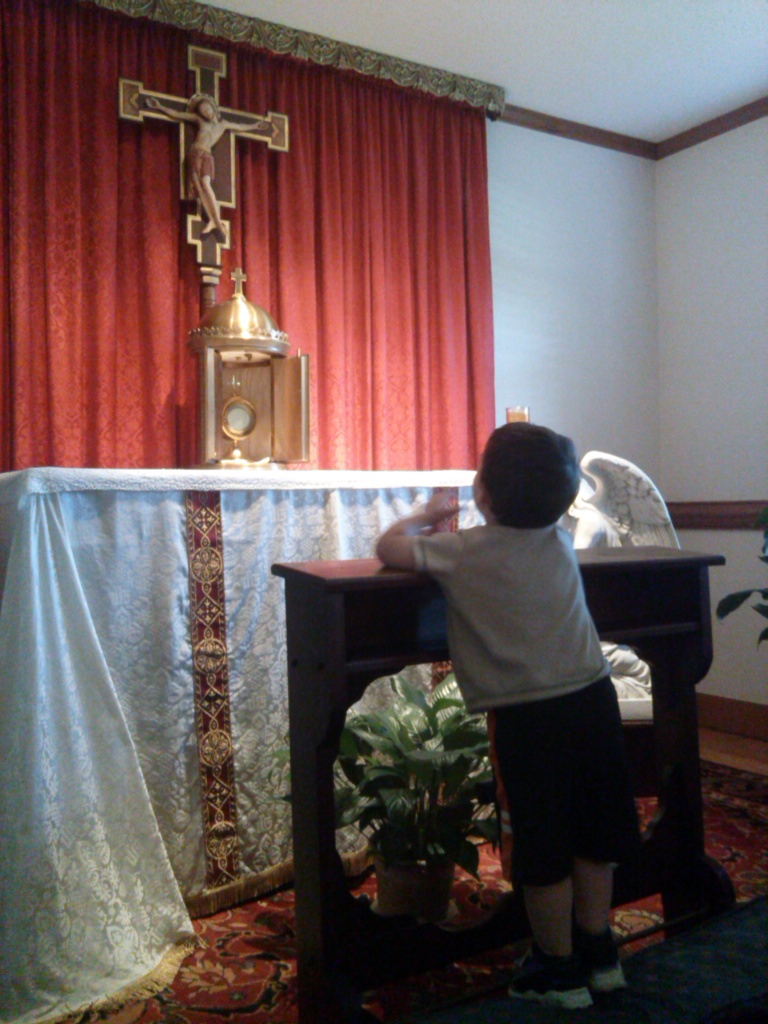 A recent Pew Research study found that only one-third of U.S. Catholics recognize that the Eucharist is the actual Body and Blood of Jesus. I contend that those doubters would become believers in an adoration chapel.
Now, rather than compiling a list of why-not's for spending an hour adoring Our Lord in the Blessed Sacrament, I have an ever-increasing catalog of why's. Why we, as Catholics, need to spend at least an hour alone with Jesus every week, in addition to Holy Mass.
Chapel Lessons
I'm not too proud to admit that it took a period of adjustment in those first hours of silent repose as a family. Little children aren't naturally accustomed to sitting still in a noiseless room for 60 minutes (and, to be honest, even some of us adults struggle with silent stillness). But they can learn to, just as we did.
Additionally, when souls grow up in the adoration chapel, they mature in their understanding that peace can be found in a place and a Person. In this case, I'm not just talking about children. People of all ages benefit in detectable ways when they spend time in silence before the Blessed Sacrament.
I'm Just Too Busy
Maybe the most miraculous favor we received, in return for our time in adoration, was more time. Seven years ago, I couldn't see how to slice out another two hours (30 minutes commute time each direction + 60 minutes adoring) from my family's busy schedule. That was really my biggest obstacle. What I saw as an impediment, Christ saw as an opportunity to teach me to trust.
Since then, I've learned that families who make time to adore discover that their supply of time increases. And of course, that's the case because when we make something a priority in our life, we give it primary status in our minds, in our hearts and in our schedules.
Making Jesus the priority freed me from my attachment to lesser things. Rather than lose two hours from my week, I gained two hours of time with my family and with the Prince of Peace, the Wonderful Counselor.
A Profitable Return
So, if you're still where I was, if your list of why not's is long, then take my advice: become a committed adorer of Jesus Christ in the Blessed Sacrament. Just do it. Give an hour out of your busy week to the Lord. He will surely repay your investment in spades!
Become an Adorer
Looking for an adoration chapel in the Diocese of Raleigh? Here are a few parishes with chapels: St. Catherine of Siena in Wake Forest, Our Lady of Lourdes in Raleigh, Our Lady of Perpetual Help in Rocky Mount, St. Peter's Catholic Church in Greenville, Infant of Prague in Jacksonville.
This site, Eucharistic Adoration in the State of North Carolina, is a helpful one for locating adoration chapels throughout the state. Be sure to double-check on the parish's website or call the parish office to confirm the chapel hours before you plan your visit. If your parish does not have a weekly adoration time or chapel, consider asking your parish priest to add one- just don't forget to implore the Holy Spirit's help before you ask!