by Nikolai R.F.X. Brelinsky
While attending this year's Ignited By Truth Catholic Conference a couple of weeks ago, a realization dawned on me that I hadn't thought about before. That is, I realized that this event really was something miraculous. How otherwise, apart from Divine Assistance, could this conference have become the success that it was?
This year's conference boasted: its highest attendance to date, an extensive youth program, and a dynamic Spanish program. And all of that was born, more than a decade ago, out of a kitchen table conversation between two home schooling mothers, Ursula Ruiz and Christine Sulzen, who wanted one thing: to set the world on fire.
Two Women and Their Vision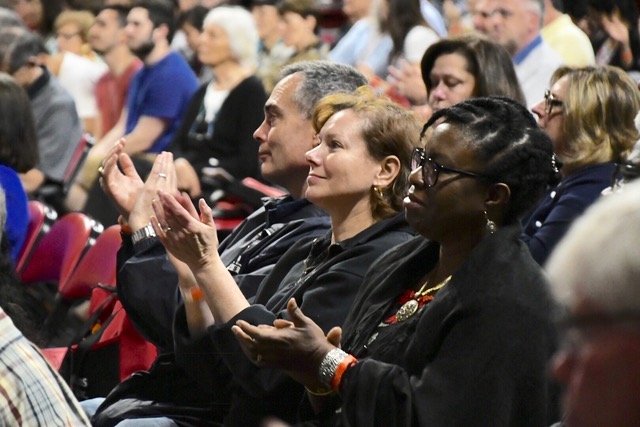 The vision for Ignited By Truth was something quite simple — to inspire and strengthen Catholics to live out their faith. To accomplish that goal, Mrs. Ruiz and Mrs. Sulzen hoped to bring renowned speakers to the Raleigh Diocese. Additionally, they wanted to insure that the event would be accessible to everyone.
Now, more than 10 years later, Ignited By Truth has expanded beyond the two founders to a leadership team with 20+ individuals. It has moved from its humble beginnings at Cardinal Gibbons High School to the campus of NC State. And, faithful to its mission to reach Catholics in all phases of their faith journey, the conference provided programs specific to youth, young adults and Spanish-speaking Catholics.
Still Igniting Hearts and Minds
What is it, then, that inspires us in our faith? The answer is truth. Truth, the Word of God, is a constant and powerful call for us, in all times, to be the persons God means for each of us to be, in the world.
Saint Thomas Aquinas did not become a great theologian of the Church before he experienced a great encounter of faith. Likewise, Saint Augustine experienced a great conversion when he picked up and read the Words of God in the Scriptures. These and countless other saints were ignited in their faith by the truth of God.
How This Year's Conference Succeeded
This year's conference hosted many great speakers, coming from different walks of life and with vastly different styles in their deliveries. Father Spitzer spoke about the relationship between faith and science with his perspective as a renowned scientific mind. Dr. Scott Hahn spoke about his experiences in marriage and its role in the Church and society. There were talks on the reason for joy in our faith, for the importance of devotion to the Blessed Mother, on courageous evangelization, and more.
Each and every one of these talks was delivered with the purpose of igniting hearts and minds. Not only were the topics discussed to give an academic idea of faith and relationship with God, but to give listeners personal testimonies that they could relate to.
Saint Catherine of Siena is quoted as saying, "Be who God meant you to be and you will set the world on fire." Clearly, there are many people behind the scenes and on the stages of Ignited By Truth who answered that call, and God will surely bear much fruit through their efforts.
Purchase Talks and Support the IBT Mission
If you would like to purchase recordings of the talks from the conference, they are now available in MP3 format in our store.
Donations help cover the costs of the conference and allow the ticket prices to remain affordable to all. Please, continue to support Ignited By Truth financially and with your prayers so that we can continue to have such an excellent means for evangelization and Catholic fellowship.
Vendors at the 2018 Conference
Vendors support the conference and continue its greater mission by equipping Catholics with the resources to live out their faith. Please, continue to support these businesses throughout the year.
ABCatholic
American Heritage Girls
Augustine Institute
Belmont Abbey College
BirthChoice
Bless Buy Enterprise
Bordeaux Ln Studio
Cardinal Gibbons
Carolinas Center for Bio-Ethical Reform
Catholic Charismatic Renewal
Catholic Writers Guild
Children of God for Life 
CMF CURO
Compass Catholic Ministries
Cross of St. Benedict LLC
Cursillo of Raleigh
Divine Mercy Radio
EWTN
Following in Footsteps, LLC
Gabi's Grounds Coffee Shop
Got Mary? / Got Mercy?
Holy Family Perpetual Adoration Chapel
Holy Heroes LLC
Ignite Ministry Nights
In His Name Catholic Store
Legion of Mary
Miles Christi
North Carolina Right to Life Inc.
Pauline Books and Media
Reply Ob/Gyn
Sentinel Primary Care
Smith Catholic Art
St. Joseph Primary Care
The Foundation for a Christian Civilization
TKC Catholic Bookstore